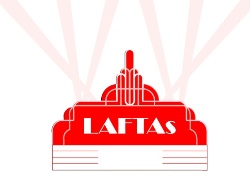 This award winning animation was my first attempt at animating anything and was created as part of a school project with my friends Dan Nichols and Lily Simpson.
A Stickman Adventure won the LAFTA for Best Animation and The Secondary Patron Award, and we were also nominated for the LAFTA for Best Concept at the Lincolnshire Awards for Film Teamwork Achievement (LAFTA) awards in 2011.
If you'd like to see more of my animation work, take a look at my graduate showreel.
A Stickman Adventure was my first venture into animation. During sixth form I signed up to do an animation course in which we would explore different animation techniques and take an animated short from concept, to storyboard, to completion for submission to the LAFTA awards at the end of the school year.
We were all 16 years old and in a new school, so I teamed up with the only other 2 people on the course who I recognized; Lily Simpson who had been at the same school as me, and Dan Nichols who shared a few classes with a friend of mine. We quickly became friends and began playing with the equipment to decide which technique we'd like to use.
Creating A Stickman Adventure
Stickman began as a walk cycle within the first few classes, but we quickly began brainstorming and storyboarding. We finished our storyboard which had Stickman going through various 'portals'. He fell through a manhole, came up through a crater on the moon and got shot out of a whale's blowhole, to name a few - before getting steamrolled by an egg which was finally eaten.
This allowed us to explore a range of mediums and techniques including hand drawn, stopmotion and cutout animation. This modular approach to storyboarding also had a volume of practical advantages; we wouldn't have to preserve the set for long, we could shorten or extend the animation to suit our needs and the constraints of the submission guidelines. It also meant we would each direct, animate, edit etc. sections in rotation, so we all had an equal hand in creating our animated short.
We created the film in a linear fashion; the first scene you see is the first we animated and so on, and it's visible as the film progresses that we became better and more confident in the practices and techniques we were using, which was great for us, but by the time we completed the film, we all wished we could do it over in a better, more consistent quality.
University Applications
While working on A Stickman Adventure, I quickly fell in love with the artform and decided to apply to an Animation and Illustration BA course (as opposed to just an illustration course).
The interview took place in the interim between submitting our film to the LAFTAs and finding out whether we were shortlisted. As I wasn't doing any art-based qualifications, my consideration was entirely portfolio based. I was given a conditional acceptance on the basis that I got 240 UCAS points and won the LAFTA for Best Animation.
LAFTA (Lincolnshire Awards for Film Teamwork Achievement) 2011
We soon found out that our short film was the only one from our course shortlisted for any LAFTAs. Another group from the filmmaking course at our school was nominated for an award for their short-form documentary. An experimental animated short from a local (and kind of rival) school was also nominated for the LAFTA for Best Animation and the LAFTA for Best Concept in the Secondary School age division; the same categories our film was nominated in. There were only six or seven nominations per category, so the competition was pretty fierce.
The award ceremony took place a few months later. We lost the LAFTA for Best Concept to our aforementioned local competitors, but won the LAFTA for Best Animation. There are two Patron Awards given out by the Lincolnshire Awards for Film Teamwork Achievement every year; one for the primary school age division and one for the secondary school age division. These are picked by the LAFTAs patron, Jim Broadbent as his favourite submission from each age division. A Stickman Adventure was selected and won The Secondary Patron Award, and I surpassed the conditions of my university acceptance.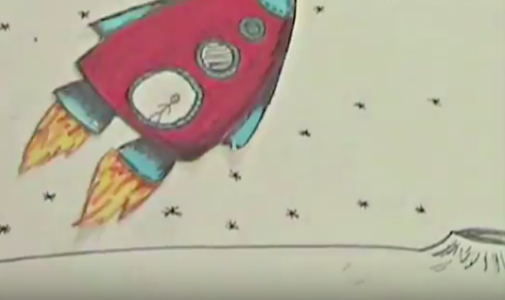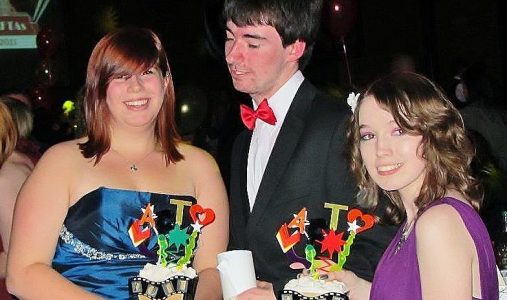 *pictured above from left to right: Lily Simpson, Dan Nichols, Chloe Liston (myself)